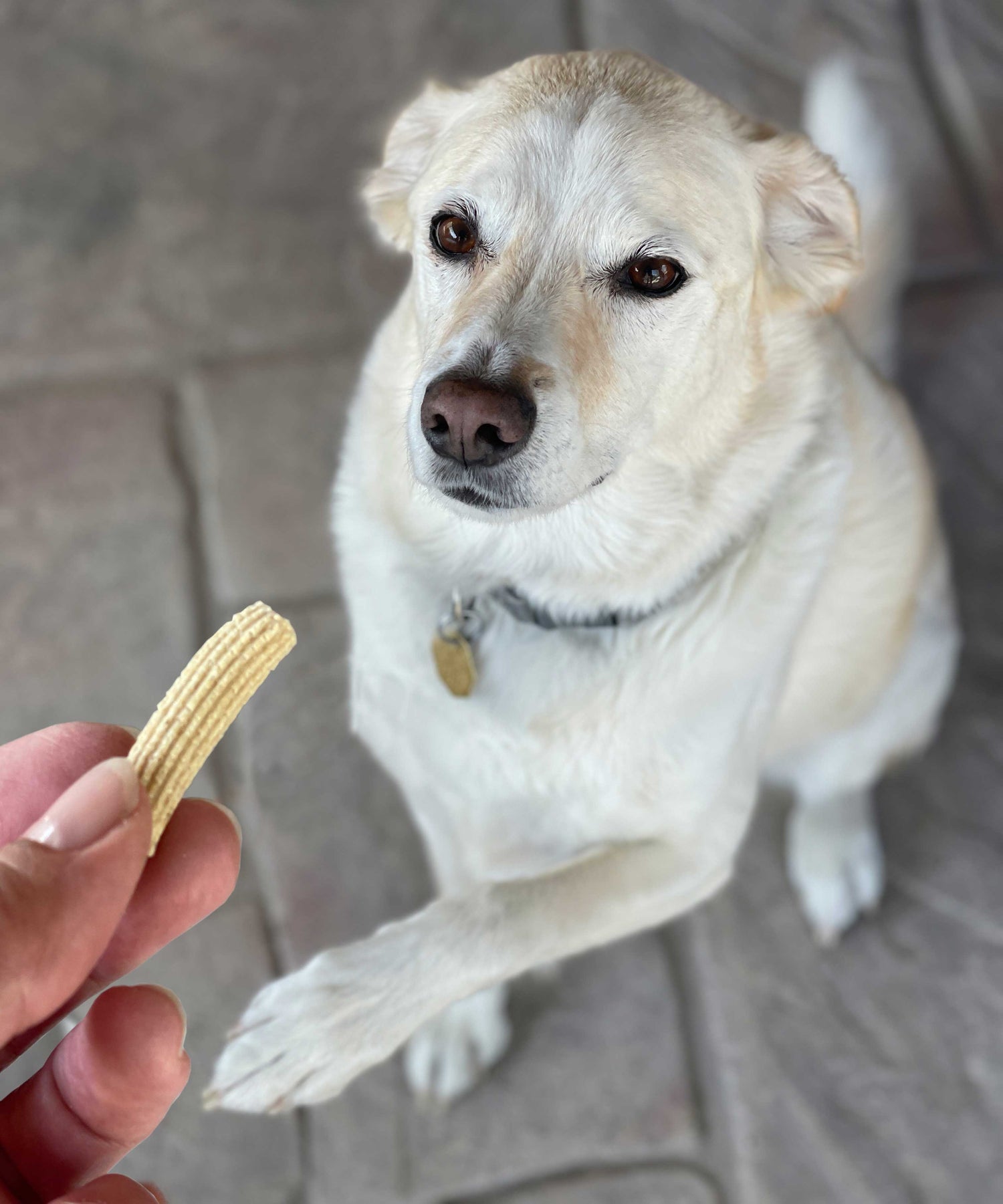 Reward them. Nourish them. Love them.
Shop healthy treats!
Start today by saying "hello" to Pet Pasta's nutrient-rich treats and "goodbye" to treats that have little to no nutritional value.
Dogs help us live our best lives, let's help them live theirs by rewarding them with yummy, nourishing treats.
Nutrition is key to ensuring your pup's optimal health and well-being. The essential vitamins and minerals in Pet Pasta play a vital role in various body functions, from supporting the immune system to promoting healthy skin and coat. Read here to see here how each nutrient in Pet Pasta helps you be proactive with your pups long-term health.
In fact, Pet Pasta was formulated by a veterinarian to be beg-worthy and so nutrient-rich, you can use it as a treat, a meal topper or even to make complete and balanced homemade meals. Try our yummy homemade dog food recipes!
Save on multiples and get FREE SHIPPING!
Regular price

Sale price

$24.99 USD

Unit price

per

Regular price

$50.00 USD

Sale price

$44.99 USD

Unit price

per
Why Pet Pasta Treats Over Other Treats?!
Veterinarian formulated

Pet pasta was formulated by a vet to meet the vitamin and mineral requirement for adult dogs according to AFFCO Standards.
Limited, all-natural ingredients with added essential vitamins & minerals

We use all-natural ingredients with added vitamins and minerals. We make sure everything is of the highest quality because we simply refuse to sacrifice any nutritional value for cheaper ingredients.  

There is a touch of natural smoke flavoring to give it a drool-worthy taste of bacon. Our limited ingredients that make up Pet Pasta are all considered very healthy for dogs and make a fantastic addition to a dog's homemade meals or as a kibble topper or a healthy treat. 

Ingredients:

Oats

Oats are a great alternative carbohydrate for dogs that may be sensitive to wheat or grains. Oatmeal contains vitamin B to help maintain a healthy coat and linoleic acid, a type of omega-6 fatty acid, to maintain healthy skin. Oats are also a great source of soluble fiber, which can help regulate blood glucose levels and improve bowel movements.

Eggs

Eggs are high in protein and fatty acids. They also contain folate, riboflavin, selenium, vitamin A and vitamin B12. All of these are good for your dog's skin and coat.

Flaxseed

Flaxseed is one of the richest plant sources of omega-3 fatty acid, also called a-linolenic acid. They can aid in constipation relief, help increase the quality of their coat and skin, and aid in a healthy immune system.

Vitamin and Mineral Mix

A mix that has been formulated by a board-certified veterinarian nutritionist and calculated for inclusion in Pet Pasta by a board-certified companion animal nutritionist to ensure all the vitamins and trace minerals dogs need to balance a homemade diet.

Brewer's Yeast

Brewer's yeast is a high-quality source of essential amino acids and protein, which helps support lean muscle mass. It also contains B vitamins, which help convert the nutrients in your dog's food into energy he can use.

Tapioca Flour

Tapioca Flour is starch that has benefits similar to fiber, which can help support digestive health. We use it in our recipe because it is non-toxic gluten-free, lectin-free and it helps bind the pasta. Tapioca can also be beneficial for dogs that are experiencing allergies and sensitivities.

Cultured Skim Milk

An excellent source of calcium and protein. It may help to establish and maintain beneficial intestinal bacterial flora and reduce lactose intolerance.

Rosemary Extract

An antimicrobial, antioxidant, and anti-inflammatory that can help eliminate free radicals that can cause long-term damage. Including minimizing fat oxidation.
Gently air-dried to preserve all nutrients

We use a natural and gentle air drying process so that we do not lose any nutritional value in Pet Pasta
Ready-to-eat with a crave-worthy flavor of bacon

It is so easy! Pet Pasta was formulated to be served right out of the bag. There is no need to boil or cook it like people pasta. In fact, dogs love the light crunch of Pet Pasta. Serving it dry allows all the nutrients to be preserved. Plus, we add a natural smoked flavoring to give it a yummy bacon flavor!
No artificial preservatives or additives

We use only the finest ingredients and do not add in any artificial preservatives or additives. Everything in Pet Pasta is healthy for your pup!
Rigorously formulated nutrient profile

Guaranteed Analysis
Moisture % 8
Dry Matter % 92
Protein % 14.45
Fat % 10.16
Fiber % 6.99
Ash % 2.42


Minerals
Calcium % 1.06
Phosphorus % 0.70
Potassium % 0.57
Sodium % 0.78
Chloride % 0.94
Magnesium % 0.18
Iron mg/kg 97.06
Copper mg/kg 11.91
Manganese mg/kg 6.68
Zinc mg/kg 124.63
Iodine mg/kg 2.12
Selenium mg/kg 0.43


Vitamins
Vitamin A IU/kg 12135.08
Vitamin D IU/kg 1771.65
Vitamin E IU/kg 125.20
Vitamin K mg/kg 0.01
Thiamin (B1) mg/kg 35.88
Riboflavin (B2) mg/kg 32.65
Pantothenic (B5) mg/kg 69.33
Niacin (B3) mg/kg 106.85
Pyridoxine (B6) mg/kg 10.00
Folic Acid (B9) mg/kg 2.11
Biotin (B7) mg/kg 0.07
Vitamin B12 mg/kg 1.38
Choline mg/kg 3871.32
Taurine % 0.17
Healthy and tasty alternative to other treats and toppers

Many treat and toppers have limited nutrition. No need to give your pup treats and toppers that are full of fluff and yucky ingredients! You can now treat them with Pet Pasta and get the advantage of all the vital nutrients.
My dogs love it!

I have 2 Italian greyhounds and they cannot get enough. They race to the bag when they hear it open. The pups at the dog park love it too! I keep it in my pocket and they come running to get their Pet Pasta! I have become the 'Pet Park Treat Lady' but it makes me feel good because I am giving them something yummy and healthy!

- Paige F.

Ripley begs for it!

My dogs go absolutely crazy for Pet Pasta! I don't always trust what is in their kibble but this makes it easy for me to give them the vitamins and minerals they may not be getting in their daily diet! We have tried other supplements but they would spit them out. It makes me so happy to see how excited my dogs get when hear the bag of Pet Pasta open! They beg for it! I not only give Pet Pasta as a treat but I also mix it in with their kibble and they think I am the best mom ever!

- Roxann H.

Buy it!

This is the easiest, and according to my dog, the tastiest way to get the
vitamins and minerals into his daily diet. The added fiber from the oats
has dramatically improved his stools! Thank you!

- Abbey M.

Picky eater now loves his food!

I bought every dog food out there but it wasn't until I started making homemade dog food with Pet Pasta mixed in that Elvis finally started eating! This literally saved Elvis from starving because he just would not eat! I love Pet Pasta!

- Teresa H.

Doggie Obsession

My dogs love this supplement! They have been dealing with itchy skin and gunk in their eyes and that has cleared up! I love that it is not only packed with nurtients but they beg for it!

-Brittne M.

Suki will not eat without Pet Pasta in her food!

Suki will not eat her meal until I put pet pasta on as a topper. She literally stands and stares at me until I add it! Who knew something so nutritious could be so delicious! She loves it!

- Barb M.
Return and Refund Policy
As Pet Pasta is a perishable food item, it may not be returned or exchanged. If you have concerns or problems with the products you receive, please contact us at angie@petpasta.com within 7 days and we will attempt to resolve the issue. Pet Pasta shall not issue any refunds for the Products or Services except at its sole discretion. All recipes have been formulated by a vet to meet the nutritional needs of adult dogs but final homemade meals that you make have not been tested.